See the NEWS page for the latest info on the actors of P:TL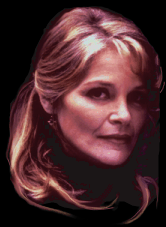 Helen Shaver is a Canadian actress and director. She was born February 24, 1951 in St. Thomas, Ontario, Canada. Steve Smith is her husband. She met him around 1985. For more about this actress,
check out The Helen Shaver Page by Randy Summers.
Filmography includes films, TV series
& made-for-TV movies:
2001 "The Education of Max Bickford" (TV Series) - " Erica Bettis"
2000 Bear with Me - "Sara Bradley"
2000 We All Fall Down - written and directed by her P:TL co-star, Martin Cummins. Stars Nicholas Campbell. Premiered at the Floating Film Festival (February 2000.)
2000 On Common Ground (Showtime movie) - "Janet"
2000 The Wishing Tree (Showtime mMovie) - made in '99)
1998 The Sweetest Gift (Showtime movie)
1998 "Dead Man's Gun" (TV series) - "Next of Kin" (ep #1.8) 10/1/1997 - "Dianna McKinney"
1996-1999 "Poltergeist: The Legacy" (TV series) - "Rachel Corrigan"
1996 Egg Salad
1996 Rowing Through - "Slim"
1996 The Craft - "Grace"
1996 Open Season - "Rachel Rowen"
1996 Rowing Through - "Slim"
1995/96 Tremors II: Aftershocks - "Kate White"
1995 "The Outer Limits" (TV series) - "Sandkings" (ep # 1.1) 3/26/1995 - "Cathy Kress
1995 "Falling for You" (TV)
1995 Born To Be Wild a.k.a. Katie - "Margaret Heller"
1994 "The Forget-Me-Not Murders" (TV) - "Monique Dessier"
1994 "Ride with the Wind" (TV) - "Katherine Barnes"
1994 "Without Consent" (TV) - "Nora Fields"
1993 Morning Glory - "Lula Peaks"
1993 "Poisoned by Love" (TV) - "Edie Ballew"
1993 "Survive the Night" ( TV) - "Stacy"
1993 "Trial & Error" (TV) - "Katherine Woodfield"
1992 "Fatal Memories" (TV) - "Elaine Tipton"
1992 That Night a.k.a. One Hot Summer - "Ann O'Connor"
1992 Zebrahead - "Diane"
1991 Amazing Stories Book 4 (1991)
1990 "WIOU" (TV series) - "Kelby Robinson"
1990 Bethune: The Making of a Hero - "Mrs. Dowd"
1990 Innocent Victim a.k.a. Tree of Hands - "Benet Archdale"
1990 "Pair of Aces" (TV) - "Rose"
1989 "B.L. Stryker: The Dancer's Touch" (TV)
1989 "Mothers, Daughters and Lovers" a.k.a. American River (TV) - "Claire Nichols"
1988 Land Before Time - "voice of Littlefoot's Mother"
1988 "Blame" (TV) - "Amy Donaldson"
1988 Walking After Midnight
1987 In Search of the Perfect 10
1987 The Believers - "Jessica Halliday"
1986 The Color of Money - "Janelle"
1986 Lost! - "Linda"
1986 "Many Happy Returns" (TV)
1985 Desert Hearts - "Vivian Bell"
1985 "The Park Is Mine" (TV) - "Valery"
1985 The War Boy (1985 or 1987?)
1984 Best Defense - "Claire"
1984 Coming Out Alive
1984 "Countdown to Looking Glass" (TV) "Dorian Waldorf"
1983 The Osterman Weekend - "Virginia Tremayne"
1982 Harry Tracy, Desperado - "Catherine Tuttle"
1981 "Hill Street Blues" (TV series) -"Teresa"
1981 "Jessica Novak" (TV Series) - "Jessica Novak"
1981 "Between Two Brothers" (TV)
1981 Gas
1980 "United States" (TV series) - "Libby Chapin"
1980 "Off Your Rocker" (TV)
1979 The Amityville Horror - "Carolyn"
1978 High-Ballin' - "Pickup"
1978 In Praise of Older Women - "Ann MacDonald"
1978 "Lovey: A Circle of Children, Part II" (TV)
1977 Outrageous!
1977 Starship Invasions a.k.a. Alien Encounter - "Betty"
1977 Who Has Seen the Wind - "Ruth Thompson"
1976 Shoot
1976 The Supreme Kid - "Girl hitchhiker"
Directing & Producing Credits:
Directing
2002 Due East (TV)
2000 "Soul Food" (TV Series) episode "This Crazy Life"
1999 "Judging Amy" (TV Series) episode "Eight and a Half Narrow"
1999 "Beggars and Choosers" (TV Series) - " episode(s)
1999 "Poltergeist: The Legacy" episode "Brother's Keeper" (season IV)
1998 "The Net" (TV Series) - ? episode(s)
1998 Summer's End (SHOWTIME Original Movie) w/ James Earl Jones.
1998 "FAME L.A." episode "Boys and the Band"
1996 "Poltergeist: The Legacy" episodes "Bones of St. Anthony" (season I) and "Brother's Keeper" (season IV)
1995 "The Outer Limits" episode "Lithia"
Producing
2002 Due East (TV) - producer
2000 We All Fall Down - executive producer
21st Annual Genie Award for Best Performance by an Actress in a Supporting Role for her role in WE ALL FALL DOWN.
2001 LEO AWARD nomination for Best Performance - Female of Best Feature Length Drama for WE ALL FALL DOWN.
Summer's End (directed by Helen Shaver) was honored at the 1999 Chicago International Children's Film Festival and has received praise from critics across the country.
Cable ACE Award nomination for her role in The Outer Limits' pilot episode, "Sandking"
Bronze Leopard Award at the Locarno Film Festival in Switzerland for Desert Hearts.
Genie Award for Best Actress for In Praise of Older Women
Genie Award nomination for Who Has Seen The Wind?
Theatre World Award for her role in the Broadway production of Neil Simon's "Jake's Women" which starred Alan Alda.
Interviews with Helen Shaver (Articles)
Xposé™ #5 from 12/96: "Revelations"
Xposé™ Special #8 1999: "Helen to Pay"
---
CREDITS: IMDB for most of the credits.
Xposé™ is a registered trademark of Visual Imagination Ltd.