See the NEWS for the latest info on the actors of P:TL.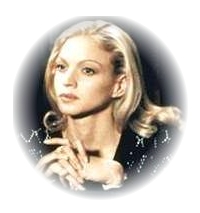 Kristin Lehman was born in
Toronto, Ontario, Canada.
Click here for the only online bio of Kristin Lehman by an Urs fan (Forever Knight.)
MOVIES (TV & FILMS):
2000 Way of the Gun, The - "Francesca Chidduck"
1998 Dog Park - "Keiran"
1997 Hemoglobin (aka Bleeders) - "Kathleen"
1996 Alaska - "Florence"
1996 Ed McBain's 87th Precinct: Ice (TV) - "Tina"
TV SERIES:
2002 "Andromeda" - "Molly Noguchi" in ep "Lava and Rockets" (ep 2.13) 2/4/02
2001 "Go Fish" - "Miss Eastwood"
2001 "Outer Limits, The" in ep "Time To Time" (ep # 7.15) 8/11/01
2001 "Felicity" - "Avery Swanson" in episodes:
"Senioritis" (ep # 3.16) 5/9/2001
"Break-Up Kit, The" (episode # 3.14) 5/2/2001
"Blackout" (episode # 3.13) 4/25/2001
"Girlfight" (episode # 3.12) 4/18/2001
2001 "Outer Limits, The" - "Larissa" in ep "Stasis" (ep # 6.9) 4/14/2000
1999 "Strange World" (short-lived TV Series) - "Dr. Sidney MacMillan"
1998-99 "Poltergeist: The Legacy" (seasons 3 & 4) - "Kristin Adams"
1998 "The X-Files" - "Kill Switch" (ep # 5.11) 2/15/98 - "Esther Narin"
1997 "Earth: Final Conflict" - "Resurrection" (ep # 1.7) 11/17/97 - "Cynthia Clarkson"
1996 "Kung Fu: The Legend Continues"- "Jordan"
"A Shaolin Christmas " (ep # 4.21) 12/23/96
"Requiem" (ep # 4.20) 12/2/96
"Time Prisoners" (ep #4.19) 11/25/96
1996 "Due South" - "Flashback" (ep # 2.18) 1996 - "Rhonda"
1995-96 "Forever Knight" - "Urs"
"Ashes to Ashes" (episode # 3.20) 1996
"Black Buddha, The: Part 2" (episode # 3.2) 9/18/96
"Trophy Girl" (episode # 3.8) 1995
"Hearts of Darkness" (episode # 3.7) 1995
1997 "The Outer Limits" - "Dead Man's Switch" (ep # 3.13) 4/4/1997