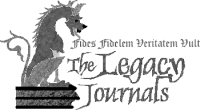 Join in the Legacy-Journals DISCUSSION mailing list. It's for fans of Poltergeist: The Legacy who enjoy discussing the episodes, the characters and anything having to do with the series and the people involved in it. All viewers (worldwide) are welcome to join. (Age restriction removed in October 2002.)
All subscription requests are approved at the discretion of the list-owner. Hopefully, this will keep spammers and trolls off our list. Please remember to answer that one question that gets sent to you upon requesting membership!
Your Privacy
The subscriber list is anonymous (hidden) and the list of subscribers' email addresses cannot be seen on the LJs' YahooGroups site by fellow list members or spammers. Archives of most LJs messages are for list members only and can be viewed via a web browser. YahooGroups is the host for this list. Read Yahoo's Privacy Statement
History of the Legacy-Journals
"You get what you pay for" is certainly a true saying and that is why, back in March 1997, I chose one of the most highly reputable and reliable majordomo mailing list hosts (Esosoft) which gave us a helluva lot of quality for only a few dollars per month out of my pocket. UNFORTUNATELY, on December 16, 1999 and without any warning, Esosoft dumped all its majordomo lists onto Topica (a younger, "free" mailing list provider that I was reluctant to use at that time) and gave us list-owners no option but to do that or leave. So, I chose to move the "LJs" to ONELIST, where my other lists were located: P:TL Fanfic List and the Derek de Lint Discussion List. ONELIST merged with eGroups and then eGroups got bought by Yahoo and renamed "YahooGroups." YahooGroups provides many of the best features of a majordomo list and then some. Their customer support and uptime has been excellent so I feel confident that it will do fine as as the provider for the legacy-journals mailing list.
If you have a YahooID, subscribe to the Legacy-Journals now at YahooGroups. You can choose to receive Individual messages, a Daily Digest (of all one day's messages) or to not receive email but to read it online in the archives.

Subscribe via email: legacy-journals-subscribe@yahoogroups.com
Unsubscribe: legacy-journals-unsubscribe@yahoogroups.com
Getting ON the list requires a few simple steps. Getting OFF the list is very easy and it is YOUR responsibility to learn how to do so if/when that time comes.