| | |
| --- | --- |
| Article Title: | SUMMER SCI-FI SPECIAL: RESTLESS SPIRITS On Poltergeist: The Legacy, evil adopts myriad exotic forms |
| Writer: | Sean Mitchell |
| Online Article: | Formerly located at http://www.tvgen.com/ |
| Publish Date: | circa Summer 1996-97 |
| Copyright: | ©1996 News America Publications, Inc. TV Guide is a registered trademark of TV Guide Financial, Inc. |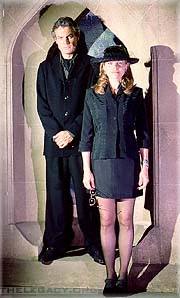 Poltergeist: The Legacy is ghostbusting as serious business. The flamboyant Showtime occult drama (Fridays, 10 P.M./ET) focuses on the Legacy, a secret society in San Francisco that uses modern scientific resources to battle ancient curses, vaporous demons, and countless other forms of paranormal menace.
Starring Dutch actor Derek de Lint as the group's brooding patriarch and Helen Shaver as a consulting psychiatrist and single mom, the show has little to do with the three "Poltergeist" movies other than the officially appropriated title, a pervasive ghostly aura, and a heavy reliance on special effects. Instead, the series rummages around in the attic of macabre storytelling, recycling tales from the dark side for a computerized world. It's as if Edgar Allan Poe had been assigned to write for Mission: Impossible. Storylines have dealt with contemporary headline issues like child abuse, slumlords, and religious cults, relocating them to the netherworld of the black arts, where the villains often have real skeletons in their closets.
On a soundstage in Vancouver, British Columbia, where much of the show is shot, a small army of special-effects technicians scurries about, preparing to pump some supernatural pizzazz into the entrance of guest star Tom Schanley. In this episode, he plays the vengeful son of an evil sorcerer once vanquished by the Legacy. An assistant director cues an overhead bank of "lightning," while an industrial fan blows smoke from a Rosco 1500 fog machine into the room. Technicians line up two long, steel, air-propulsion cones, and a camera operator grabs the camera with both hands and practices shaking it to simulate an earthquake

.
When the director finally yells "action," all synchronized hell breaks loose. Lightning flashes and walls tremble. The air cones blow twin gusts at Schanley's head, and the actor stands stoically, his black robes flowing and his long blond hair suddenly horizontal in a facsimile of that long-running Maxell audiotape ad. Later, computerized special effects will add other spectral touches, like a phosphorescent glow for Schanley's eyes.
"There are moments when I think, 'Oh, my God, get me out of here, this is completely ridiculous,'" says Shaver, an actress known primarily for her work in feature films such as "Desert Hearts" and "The Color of Money." "I can't believe we're going to spend 20 minutes shooting the smoke effect of a ghost, and I'm going to shoot my close-up in 10." Still, she understands the supernatural appeal of Poltergeist: The Legacy and other fright-night projects. "In naturalistic drama," she says, "you see the inner struggle in people between good and evil. In this genre, you project those forces outward into archetypes of good and evil on this big, dark, lush canvas. I think that's why it's been so popular in literature and now in film and TV. It gives people a place to project those aspects of themselves and watch the struggle."
Sitting in an office near the studio lot, Shaver considers the upcoming episode, which will mark her directorial debut. "What I'm good at has to do with human beings," she says. "And here I get a script where a demon gets cloned. A demon. Now the thing is, we don't have the money for a demon. What we have is a tail, a claw, and an animatronic head. But it got me to thinking about the essence of drama, how you create tension. A lot of the suspense will be accomplished by showing people's reaction to the monster without ever showing it in full."
Though Shaver was ravaged by a fiend in the show's April pilot, Poltergeist is largely chaste. Romance doesn't seem to be an issue between Shaver's character and de Lint's.
"I try to play him as someone who is a loner," says the handsome de Lint, who provided a recurring love interest for Dana Delany on ABC's China Beach as an amorous French doctor. "He's alone because he's so dedicated. There is not much [sex], no. I spend my days fighting evil."On Poltergeist, every day is taken up with the never-ending battle against the forces of darkness.
"We're trying to take people on an adventure, to the edge of fright," says Richard B. Lewis, the show's creator and executive producer. "If you buy into the concept that there's a force of evil out there, it can take many forms. We're not driving stakes through people's hearts. We're trying for something more viscerally, emotionally scary." Lewis pauses and smiles. "And it's a chance to have some fun."
---
Photo credit: (left to right) de Lint and Shaver by Jeffery Newbury for TV Guide