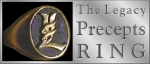 There are three steps to read through before your site submission will be accepted into the ring:
I. Your web site (or web page, if you just have one) must be about Poltergeist: The Legacy™ in some way.
Examples of content:

• Page(s) devoted to a P:TL cast or crew member(s)
• P:TL fanfic stories -- yours and/or others'
• Video captured photos or scanned images that you
took the time to make for your site.
• Personal reviews of episodes.
• etc.

Special note: If you have a web site but only a certain web page (not the first page) is dedicated to P:TL, please use that URL instead and insert the ring's html code there. (That way, a visitor doesn't have to "hunt" for your P:TL-related page.)
II. We're trying to provide a quality ring of sites for fellow fans to enjoy and follow around the web without a break in the ring. Please read the following to see if a majority of it is true before requesting to be added to the ring:
• Site includes some original content and is not just a list of links to other sites or yet another list of episodes or images taken from another fan site or from thelegacy.com - we want to see your personality shining through! :-)

• Site's entry page is moderately easy to navigate. Links to specific pages need to be apparent to the visitor and there needs to be a way for the visitor to get back to the page with the web ring code. Page should not have multiple broken images or broken links. Page needs to be readable: no dark-colored text on a dark background or light-colored text on a light background which makes text impossible to read.

• Site owner is entering the ring in good faith and is not "copy-catting" other established fansites or their content. Publicly dissing or flaming (in the past or present) any sites or site owners in the ring will possibly result in the flamer's site not being accepted into the ring or it being deactivated if already in the ring.

• Site owner acts responsibly by keeping their ring info up-to-date if their site is down, moved to another URL or their email address has changed.

• Site should be relatively well-established. Sites that have just gone live but have little or no content but lots of "under construction" pages should not be submitted yet. Add the content first, then please come back and join! :-)
III. After submitting your site info, insert the html code for the Precepts Ring into your the web page that is the same URL you submitted when you joined. This needs to be done before your site can become active in the ring. If you have already submitted your site, and need to get your code, login now.
The traditional location of a webring is at the bottom of the page but if you want to display it in a more prominent location, go right on ahead!
For even more hits (without having to join this ring)
Add your LINK to Legacy Linkage.